Product Description
12BH/12BHF1/12BHF2/12BHF3/12BV Simplex Roller Chains Bush Chains 
We have many OEM chain factory customer from Europe and our stainless steel chains quality is similar to the A quality in the world
We are professional supplier of chains
1.Bicycle chains: 408,410,415
2.Motorcycle chains: 04C, 25H, 06C, T3, 270H,415H, 420, 420L, 425, 428, 428H, 520,
525, 530 
3.ASA roller chains: 35, 40, 41, 50, 60, 60H, 80, 80H, 100, 120, 140, 160, 200, 240
(Catalog) 
4.Chain (British standard): 05-B, 06-B, 08-B, 10-B, 12-B, 16-B, 20-B, 24-B, 28-B,
32-B, 40-B (Catalog) 
5.Large pitch chain: 100, 100H, 120, 120H, 140, 140H, 160, 160H, 180, 200, 240
6.Extend-pitch precision roller chain: 208A, 208B, 210A, 210B, 212A, 212B, 216A,
216B, 220A,220B,224A,224B,228B,232B 
7.Roller chains for beer buntline conveyor: CK-70S,CK-100S,CK-100SA,CK-100SC,CK-133XA,
CK-140X, CK-140XA,CK-150X,CK-150S,CK-154X,CK-155X,CK-155XA,CK-160X,CK-160XA,CK-160XB,CK-160XC,CK-165X,CK-165XA, CK-169, CK-180X,CK-180XA,CK-200S,CW-102,CW-127
8.Implement roller chain for conveyors: 81X, 81XH,81XHH,CA550,CA555,CA620
9.Multi strand sizes available; up to 5 strand, for select size standard attachment available 
10.Chains from 04b~16b are with spring clip, other are riveted; cottered design
is available for size 80 to 240
11.Stainless steel chain and nickel plated chains is available; special design also available
(i.e., oven conveyor) and we can produce as per material your requests, usually stainless steel chains material is SS304, if you need SS316 or SS316L etc. it is available too
Main Products
Company Information
HangZhou CHINAMFG Industry Co., Ltd. is a specialized supplier of a full range of chains, sprockets, gears, gear racks, v belt pulley, timing pulley, V-belts, couplings, machined parts and so on.
Due to our CHINAMFG in offering best service to our clients, understanding of your needs and overriding sense of responsibility toward filling ordering requirements, we have obtained the trust of buyers worldwide. Having accumulated precious experience in cooperating with foreign customers, our products are selling well in the American, European, South American and Asian markets.Our products are manufactured by modern computerized machinery and equipment. Meanwhile, our products are manufactured according to high quality standards, and complying with the international advanced standard criteria.
With many years' experience in this line, we will be trusted by our advantages in competitive price, one-time delivery, prompt response, on-hand engineering support and good after-sales services.
Additionally, all our production procedures are in compliance with ISO9001 standards. We also can design and make non-standard products to meet customers' special requirements. Quality and credit are the bases that make a corporation alive. We will provide best services and high quality products with all sincerity. If you need any information or samples, please contact us and you will have our soon reply.
Packaging & Shipping
Exhibition

Contact Us
| | |
| --- | --- |
| Application: | Conveyer Equipment, Motorcycle, Agricultural Machinery |
| Structure: | Roller Chain |
| Material: | Alloy |
| Type: | Cranked Link Chain |
| Pitch: | 6.35mm~76.2mm |
| Certificate: | DIN |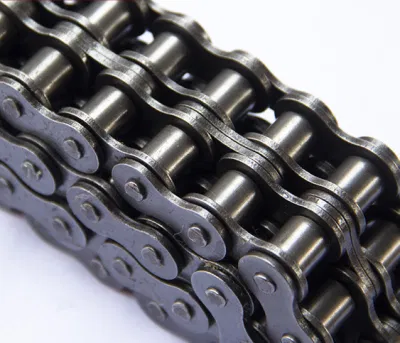 Can a bush chain be used in cleanroom environments?
Yes, bush chains can be used in cleanroom environments depending on the specific requirements and design of the cleanroom. Here are some considerations:
1. Material Selection: The choice of material for the bush chain is crucial in cleanroom applications. Stainless steel or plastic chains are commonly used because they offer excellent corrosion resistance and are easy to clean. These materials also have low particle generation, which is important in maintaining cleanroom standards.
2. Lubrication: In cleanroom environments, lubrication may need to be minimized or eliminated to prevent contamination. Self-lubricating bush chains or dry lubricants can be used to reduce the need for external lubrication, minimizing the risk of particle generation.
3. Design and Construction: The design of the bush chain should minimize the potential for particle accumulation. Smooth surfaces and sealed construction can help prevent the buildup of contaminants. Additionally, the chain should be designed for easy disassembly and cleaning to facilitate regular maintenance.
4. Cleanroom Compatibility: It is essential to verify that the bush chain and any associated components, such as sprockets, meet the cleanroom requirements and standards. They should be made of materials that are compatible with the cleanroom environment and meet any necessary certifications or regulations.
When using a bush chain in a cleanroom environment, proper installation, regular cleaning, and maintenance are essential to ensure optimal performance and prevent any potential contamination. Consulting with experts or suppliers familiar with cleanroom requirements can help in selecting the appropriate bush chain and ensuring compliance with cleanroom standards.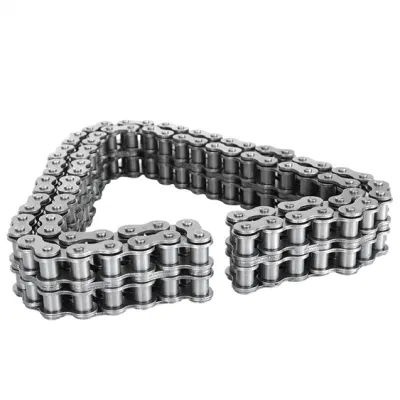 Can a bush chain be retrofitted into an existing system?
Yes, a bush chain can be retrofitted into an existing system in many cases. Retrofits are common when there is a need to upgrade or replace the existing chain with a more efficient or higher-quality option. The process of retrofitting a bush chain typically involves the following steps:
1. Evaluation of the existing system: The first step is to assess the existing system and determine if a bush chain can be installed. Factors such as space availability, compatibility with existing components, and load requirements need to be considered.
2. Selection of the appropriate bush chain: Once the system has been evaluated, the next step is to select the appropriate bush chain for the retrofit. This involves considering factors such as pitch, size, strength, and material compatibility to ensure a proper fit and optimal performance.
3. Modification of the system: Depending on the design of the existing system, some modifications may be required to accommodate the bush chain. This could involve adjusting the sprockets, modifying the chain guides, or making other necessary changes to ensure proper alignment and tensioning.
4. Installation of the bush chain: Once the modifications have been made, the bush chain can be installed into the existing system. This typically involves removing the old chain and replacing it with the new bush chain. Proper tensioning and alignment should be ensured during the installation process.
5. Testing and adjustments: After the bush chain is installed, it is important to conduct thorough testing to ensure proper operation. This includes checking for smooth movement, correct tension, and proper engagement with the sprockets. Any necessary adjustments should be made to optimize performance.
It is important to note that the feasibility of retrofitting a bush chain into an existing system depends on the specific requirements and design of the system. In some cases, additional modifications or adaptations may be needed to ensure compatibility and performance. Consulting with a qualified engineer or chain manufacturer can help determine the best approach for retrofitting a bush chain into an existing system.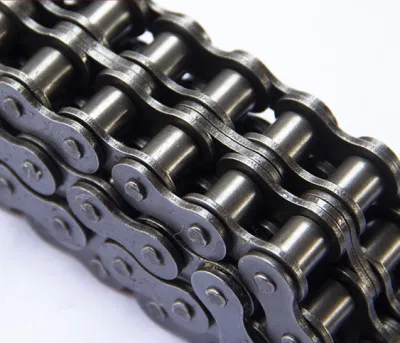 What are the applications of bush chains in industrial settings?
Bush chains, also known as bush roller chains or bushing chains, have a wide range of applications in various industrial settings. Their versatility and durability make them suitable for demanding environments and heavy-duty applications. Here are some common industrial applications of bush chains:
1. Industrial Machinery: Bush chains are used in a wide range of industrial machinery, including conveyors, material handling equipment, packaging machines, printing presses, and textile machinery. They provide reliable power transmission and can handle high loads and continuous operation.
2. Agricultural Equipment: Bush chains are extensively used in agricultural machinery such as tractors, combines, harvesters, and irrigation systems. They facilitate the transfer of power from the engine to various agricultural implements and enable efficient operation in tough farming conditions.
3. Automotive Systems: Bush chains find applications in automotive systems such as timing drives, camshaft drives, and engine oil pumps. They ensure precise synchronization of engine components and reliable power transmission for efficient and smooth operation.
4. Material Handling: Bush chains are commonly used in material handling equipment like forklifts, hoists, and cranes. They enable the lifting and movement of heavy loads and ensure reliable power transmission in demanding industrial environments.
5. Mining and Construction: In the mining and construction industries, bush chains are employed in equipment such as excavators, bulldozers, crushers, and conveyor systems. They can withstand harsh conditions, high loads, and abrasive materials commonly encountered in these industries.
6. Power Transmission: Bush chains are utilized in power transmission systems where torque and speed need to be transferred from one component to another. They are commonly found in power plants, pulp and paper mills, steel mills, and other heavy industrial applications.
7. Food Processing: Bush chains designed for food-grade applications are used in the food processing industry. They comply with strict hygiene and sanitation standards and are resistant to corrosion, allowing for safe and efficient operation in food production lines.
Overall, bush chains play a vital role in numerous industrial applications, providing reliable and efficient power transmission, durability, and resistance to harsh operating conditions. Their adaptability and strength make them a preferred choice in various industrial sectors.



editor by CX 2023-11-20