Product Description
Precision Standard Timing Chains (Bush Chains)

 Products are made of high quality alloy steel production. The plates are punched and squeezed bores by precision technology. The pin, bush, roller are machined by high-efficiency automatic equipment and automatic grinding equipment, then through heat treatment of carburization, carbon and nitrogen protection mesh belt furnace, surface blasting process etc. Assembled precision by Internal hole position, spin riveted by pressure to ensure the performance of the entire chain.
Specifications
Technique Treatment
1
Shot Peening
8
Tempering
2
Bluing
9
Oiling
3
Nickel-plated
10
Greasing
4
Zincing
11
Special color
5
Heat Treatment
12
Stain proofing
6
Carburizing
13
Pre-stretched and anti-fatigue
7
Quenching
 
 

Our Service
1. Any of your kind inquiry conveyor chain would be replied within 24 hours.
2. Well-trained and experienced sales staffs will reply all your concerns in fluent English.
3. OEM services are available with us, our professional designer would make your private idea into being.
4. Protection of your sales area, ideas of design and all your private information.
5. Delivery by air mail or ship for your orders.
Why choose us
1. We are the manufacture.
2. We have near 30 years experience of making chains and chain links.
3. Our design team has extensive experience in the chain design.
4. Best service and prompt delivery.
5. We offer various styles, size and colors to meet your requirement.
6. We covering a production area of 18750 square CHINAMFG have more than 100 employees and we have a complete set of testing equipment to ensure our quality.
| | |
| --- | --- |
| Surface Treatment: | Oxygenation |
| Structure: | Roller Chain |
| Material: | Alloy/Carbon Steel |
| Sample: | Available |
| Packages: | Can Be Customized |
| OEM: | Available |
Samples:

US$ 0/Piece

1 Piece(Min.Order)

|
Request Sample
Customization:

Available

|

Customized Request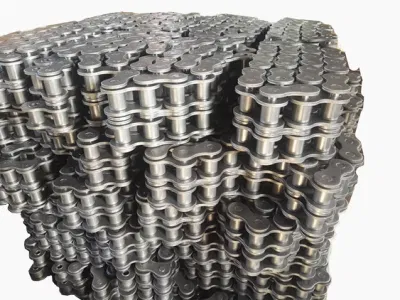 How do you calculate the required length of a bush chain?
The length of a bush chain is determined by the distance between the sprockets or pulleys it needs to span. To calculate the required length, you can follow these steps:
1. Measure the distance between the centers of the sprockets or pulleys where the bush chain will be installed. This is known as the "center distance."
2. Determine the number of chain links required. The number of links depends on the pitch of the bush chain, which is the distance between adjacent pins. The pitch is typically specified by the chain manufacturer.
3. Divide the center distance by the pitch of the chain to calculate the number of chain links needed. Round up to the nearest whole number to ensure proper engagement of the chain with the sprockets.
4. Multiply the number of chain links by the pitch to obtain the actual length of the chain required.
Keep in mind that the calculated chain length is a starting point and may need to be adjusted during installation. It is recommended to provide some additional slack in the chain to accommodate any tensioning or adjustment requirements.
It's important to refer to the manufacturer's specifications and guidelines for the specific bush chain you are using, as different chain types and designs may have variations in calculating the required length.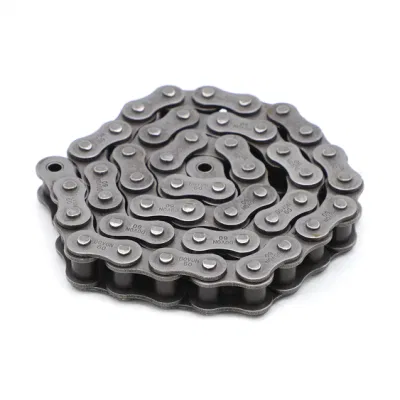 What are the noise levels associated with a bush chain?
The noise levels associated with a bush chain can vary depending on several factors. Here are some considerations:
1. Lubrication: Proper lubrication plays a significant role in reducing noise levels. Insufficient lubrication or using the wrong type of lubricant can increase friction and generate more noise. Regular lubrication maintenance is necessary to ensure smooth operation and minimize noise.
2. Chain Tension: Maintaining proper chain tension is essential for reducing noise. Excessive slack or excessive tension can lead to increased vibration and noise. It is important to follow the manufacturer's recommendations for the correct tensioning of the bush chain.
3. Chain Quality: The quality and design of the bush chain can also affect noise levels. High-quality bush chains are engineered to minimize vibration and noise generation during operation.
4. External Factors: Other external factors such as the design of the sprockets, the surrounding environment, and the presence of any additional components or accessories can influence noise levels. Proper alignment of the chain and sprockets, as well as the use of noise-dampening materials or guards, can help reduce noise.
It is important to note that while bush chains may generate some noise during operation, advancements in chain design and materials have significantly reduced noise levels in modern chains. Additionally, regular maintenance and proper installation can further minimize noise levels associated with a bush chain.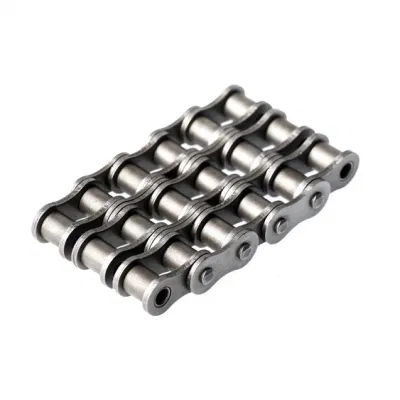 How does a bush chain differ from other types of chains?
A bush chain, also known as a bush roller chain or bushing chain, differs from other types of chains in its construction and design. Here are the key ways in which a bush chain differs:
1. Bushing Design: The main distinguishing feature of a bush chain is the presence of bushings or sleeves between the inner and outer links. These bushings serve as bearings that reduce friction and wear between the chain components, resulting in smoother operation and increased chain life.
2. Simplex, Duplex, and Triplex Configurations: Bush chains are available in different configurations, including simplex, duplex, and triplex. These configurations refer to the number of strands of chain running parallel to each other. This allows for increased load capacity and higher torque transmission in the chain system.
3. Link Plate Design: The link plates in a bush chain are typically thicker and heavier compared to other types of chains. This design provides enhanced strength and durability, allowing the chain to withstand heavy loads and resist elongation under tension.
4. Precision Bushing Fit: The bushings in a bush chain have a precise fit with the pins, which ensures proper alignment and smooth rotation. This reduces friction, minimizes wear, and improves the overall efficiency of the chain system.
5. Lubrication Requirements: Bush chains usually require regular lubrication to maintain optimal performance and reduce friction between the components. Lubrication helps prevent wear and corrosion, ensuring the longevity of the chain.
6. Wide Range of Applications: Bush chains are versatile and find applications in various industrial settings, including machinery, automotive systems, agriculture, material handling, mining, and more. Their robust construction and ability to handle high loads make them suitable for demanding applications.
Overall, the inclusion of bushings, the configuration options, and the design characteristics of bush chains distinguish them from other types of chains. Their unique features make them ideal for applications that require durability, high load capacity, and reduced friction for reliable power transmission.



editor by CX 2023-09-19