Product Description
Track chain for bulldozer D9N/D8N/D6D/D6M/D6H/D7G/D8K track link OEM parts for  D85ESS-2 oil link/dry link with master link loose link with pin&bush
Crawler Excavator Track Group 
Track link with shoe assemby
Track assemby
Dry chain assembly
Lubricated Track Group
EXCAVATOR STEEL TRACKS & PADS
Our steel chain links, made from a high-precision forging process, are heat treated to ensure durable core tenacity and hardness in the areas exposed to extreme wear. The heat-treatment reduces the chipping caused by violent knocks or strikes. All steel chain parts are high-precision machined. Additional hardness through heat treating is done on all critical wear areas.
1.Track Assembly: Complete track groups are built with top quality precision parts. All parts are hardened and tempered to prevent cracking under extreme conditions to keep your machine operational.
2.Track Chains: All of our track links are forged from top quality 35Cr and 40Cr carbon chromium steel. The track link body is manufactured to a hardness of HRC33~37 and the top surface of the track links are manufactured with an induction heating process to a hardness of HRC52~56.
3.Track Shoes: All of our track shoes are milled into a long profile from top quality manganese boron steel billet (23MnB). The profiles are then precision cut to the required length and both bolt-holes and mud-holes are punched out to accommodate for the required sizes.
| | | | |
| --- | --- | --- | --- |
| Product   Name | Track   Link/Track Chain Assy | Product   Information | Undercarriage   Parts |
| Color | Black,Yellow,Grey | Application | Excavator |
| Material | 35Mn/40Mn | Certification | ISO9001:2008 |
| Technique | Forging   & casting | Warranty   Time | 2000   hour (Normal life 4000hours ) |
| Surface   Hardness | HRC50-58 | Delivery   Time | Within   15-20 days after contract established |
| Hardness   Deepth | 4mm-10mm | MOQ | 2   Price Track Link/Track Chain Assy |
| Model   Number | Track   Link/Track Chain Assy | Service | After-market   and OEM |
| USE | Construction | Port | HangZhou |
Advantage:
Increases external wear life by 20% or more. See the graph.

Link life, normally limited by bushing wear, is better utilized because internal and external bushing wear life is extended.

Overall system wear life is enhanced by 25% or more due to the combined improvements of internal wear, external wear, and sprocket wear.

| | | | | | | | | | | | | | |
| --- | --- | --- | --- | --- | --- | --- | --- | --- | --- | --- | --- | --- | --- |
| Models | A | B | C | D | E | F | G | H | I | J | K | Q | O |
| EX60 | 154 | 55 | 47.5 | 40.45 | 42 | 80 | 90 | 90 | 155 | 127 | 58 | 14.8 | 30.5 |
| EX100-1/2/3/5 | 171.45 | 60.32 | 55.56 | 50.75 | 51.8 | 95 | 107.95 | 107.95 | 178 | 138.95 | 75.24 | 16.8 | 33.4 |
| EX100M-3 | 171.45 | 60.32 | 55.56 | 50.75 | 51.8 | 95 | 107.95 | 107.95 | 178 | 138.95 | 75.24 | 16.8 | 33.4 |
| EX200-1 | 175 | 58.7 | 57.2 | 58.8 | 60.3 | 103.2 | 125.4 | 144.5 | 218 | 176.8 | 90.8 | 18.8 | 36.5 |
| EX300-5 | 216 | 76.2 | 63 | 71.2 | 70 | 129 | 140.4 | 178.4 | 244 | 197.6 | 102 | 22.8 | 47 |
Packing&Shipping:


Company Information:
Founded in 2008, HangZhou CZPT Engineering Machinery Co., Ltd. is located in HangZhou city, ZheJiang province, near to HangZhou port with convenient transportation. Our company is a professional manufacturer and exporter of undercarriage parts for excavators and bulldozers in China.
Our main products include track roller, top roller, idler, sprocket, track shoe, track links, track group, track bolt with nut, bucket, bucket link, teeth, and cylinder ect. These parts are applied for Caterpillar, Komatsu, Hitachi, Kato, Daewoo, Hyundai, Sumitomo, Samsung, Kobelco, and Mitsubishi. With more than 12 years' development, our company have all kinds of production lines, professional technicians and skillful workers, making sure our products with high quality and competitive price. We passed the certification of ISO9001-2000, quality management procedures are conducted in accordance with international standards.
Now all our products are exported to Southeast Asia, the Middle East, Europe, North and South America, Australia, and Africa and so on. We are enhancing the market share. "Mutual benefit" is our promise and value. We'd like to supply you with high quality products and professional after-sales service. We sincerely welcome you to join us for mutual development and a prosperous future!
| | |
| --- | --- |
| After-sales Service: | Online Service |
| Warranty: | 12 Month |
| Type: | Crawler |
| Application: | Bulldozer |
| Certification: | CE, ISO9001: 2000 |
| Condition: | New |
Customization:

Available

|

Customized Request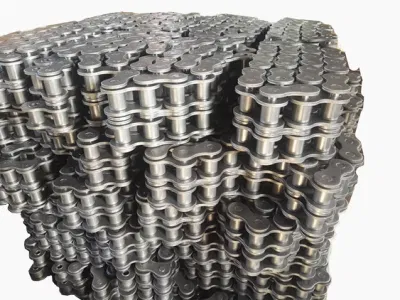 How do you calculate the required length of a bush chain?
The length of a bush chain is determined by the distance between the sprockets or pulleys it needs to span. To calculate the required length, you can follow these steps:
1. Measure the distance between the centers of the sprockets or pulleys where the bush chain will be installed. This is known as the "center distance."
2. Determine the number of chain links required. The number of links depends on the pitch of the bush chain, which is the distance between adjacent pins. The pitch is typically specified by the chain manufacturer.
3. Divide the center distance by the pitch of the chain to calculate the number of chain links needed. Round up to the nearest whole number to ensure proper engagement of the chain with the sprockets.
4. Multiply the number of chain links by the pitch to obtain the actual length of the chain required.
Keep in mind that the calculated chain length is a starting point and may need to be adjusted during installation. It is recommended to provide some additional slack in the chain to accommodate any tensioning or adjustment requirements.
It's important to refer to the manufacturer's specifications and guidelines for the specific bush chain you are using, as different chain types and designs may have variations in calculating the required length.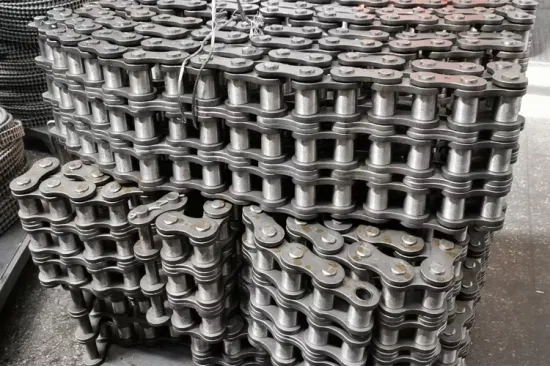 Can a bush chain be repaired or does it need to be replaced entirely?
When a bush chain is damaged or worn out, the extent of the damage will determine whether it can be repaired or needs to be replaced entirely. Here are the considerations:
1. Minor Damage: In some cases, minor damage to a bush chain can be repaired. This includes issues such as a few broken or worn-out bushings or pins. These components can be replaced individually without replacing the entire chain.
2. Extensive Damage: If the bush chain has extensive damage, such as multiple broken links, severe wear on multiple components, or damaged sprockets, it may be more cost-effective and efficient to replace the entire chain. Repairing such extensive damage can be time-consuming and may not guarantee the chain's optimal performance.
3. Chain Length: The length of the chain also plays a role in determining whether it can be repaired. If the damaged section is localized and doesn't affect the overall length significantly, it may be possible to repair or replace only the affected portion.
4. Age and Condition: The age and overall condition of the bush chain should also be considered. If the chain is already worn out, has undergone multiple repairs, or is nearing the end of its service life, it is generally recommended to replace it entirely to ensure reliable operation.
5. Cost Considerations: Finally, the cost of repair versus replacement should be evaluated. In some cases, the cost of repairs, including labor and replacement parts, may exceed the cost of a new chain. In such instances, it is more economical to replace the chain.
Ultimately, the decision to repair or replace a bush chain depends on the extent of the damage, the chain's overall condition, and cost considerations. It is advisable to consult with a qualified professional or the chain manufacturer for an accurate assessment and recommendation.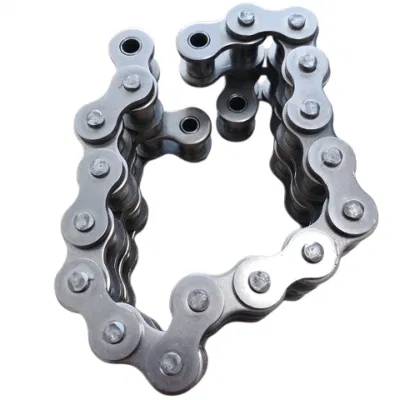 Can a bush chain be used in high-load applications?
Yes, bush chains are commonly used in high-load applications due to their robust design and ability to handle heavy loads. The construction of a bush chain allows it to transmit significant amounts of force and torque, making it suitable for demanding industrial applications.
Bush chains are designed with solid bushings and precision rollers that provide excellent load-carrying capacity. The bushings act as a bearing surface between the pins and the rollers, reducing friction and allowing for smooth rotation under high loads.
Furthermore, bush chains are available in various sizes and configurations to accommodate different load requirements. They are made from durable materials such as alloy steel or stainless steel, which further enhances their strength and load-bearing capabilities.
When selecting a bush chain for a high-load application, it is important to consider factors such as the anticipated load magnitude, operating conditions, and the desired safety margin. Proper lubrication and regular maintenance are also essential to ensure optimal performance and extend the service life of the bush chain in high-load applications.
Overall, bush chains are a reliable choice for transmitting high loads and are widely used in industries such as mining, construction, heavy machinery, and material handling.



editor by CX 2023-09-08