Product Description
Product Description
Conveyor Chains
Bush roller chain (used in U type scraper conveyor)
Bush roller chain (used in horizontal scraper conveyor)
Chains adopt high quality medium-carbon alloy steel,chain plate material is 40Mn, pin and roller material is 40Cr.
High quality material and good heat treatment guarantee excellent anti-shearing force and tensile strength during working and have good looking.
Model: GLF For TGSS flat scraper conveyor, install flat scrapper
NOTE: Other specifications which are not listed above can be made to customs'specifications.
Ring Chain
Drag Conveyor Type
Ring Chain Type
Pitch
P(mm)
Diameter
d(mm)
Length
L1(mm)
Width
W(mm)
Flight Type
Wing Width
L(mm)
Flight Width 
H(mm)
GSS16
D10-55-13
55
10
74
32.5
HF16
148
43.5
GSS20
D10-55-13
55
10
74
32.5
HF20
188
43.5
GSS25
D10-55-13
55
10
74
32.5
HF25
225
43.5
GSS32
D14-70-18
70
14
95
45
HF32
300
54.5
GSS40
D14-70-18
70
14
95
45
HF40
382
54.5
Note: The installation spacing of the nylon scraper is 4 links. We suggest every 4-6pcs of nylon scraper add 1 PU scraper to better remove the material residue in the scraper slot.
 
Packaging & Shipping
Certifications
Company Profile
Main Product Catalogue
FAQ
Q: Are your manufacturer or trading company?
A: ZheJiang CHINAMFG is a leading and professional manufacturer of grain conveying equipment accessories over 10 years in China.
Q: What is your payment term?
A: Our usual payment is 30%TT in advance, 70%TT before shipment (the bill of landing). For small quantity, we also accept other ways after discussion.
Q: Could i buy sample first or small order and is the sample fee refundable?
A: Of course. We accept sample and small order especially for new customs and of course the sample fee will be refundable when order confirmed.
Q: When can delivery from ordering?
A: The delivery time depend on the quantity you ordered, generally about 15-45 days after deposit of payment.
Q: What is the quality of your products?
A: Quality is our corporate culture, we regard product quality as life of our company. We have achieved a lot of certifications to meet customs requirements. As a factory, we can control all process of production 100% and every single product will be tested qualified before shipping.
Q: How long is the warranty of your product?
A: Our warranty period is usually 1 year. But the warranty period can be extended after discussion and agreement.
| | |
| --- | --- |
| Material: | Stainless Steel |
| Structure: | Roller Chain |
| Surface Treatment: | Polishing |
| Chain Size: | 1/2"*11/128" |
| Feature: | Fire Resistant, Heat Resistant |
| Product Name: | Conveyor Chain |
Samples:

US$ 1/Meter

1 Meter(Min.Order)

|
Request Sample
Customization:

Available

|

Customized Request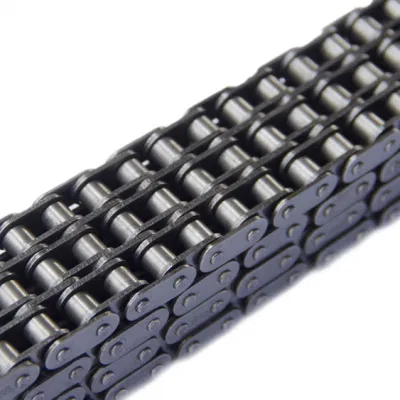 What are the maintenance requirements for a bush chain?
Maintaining a bush chain is essential to ensure its optimal performance and longevity. Here are the key maintenance requirements for a bush chain:
1. Regular cleaning: Regularly clean the bush chain to remove dirt, debris, and contaminants that can cause abrasion and accelerated wear. Use a brush or compressed air to clean the chain thoroughly.
2. Lubrication: Proper lubrication is crucial for the smooth operation and reduced friction of a bush chain. Apply the recommended lubricant to all the chain components, including the pins, bushings, and rollers. Follow the manufacturer's guidelines for the appropriate lubricant type and frequency of lubrication.
3. Tension adjustment: Check the tension of the bush chain regularly and adjust it if necessary. Proper tension ensures optimal performance and reduces the risk of premature wear or failure. Consult the manufacturer's guidelines or expert advice for the correct tensioning procedure specific to your chain.
4. Inspection: Conduct regular inspections of the bush chain to identify any signs of wear, damage, or misalignment. Inspect the chain for elongation, broken or damaged components, and misalignment. Replace any worn or damaged parts promptly to prevent further issues.
5. Replace worn components: Over time, the components of a bush chain, such as pins, bushings, and rollers, may wear out and require replacement. Monitor the wear levels of these components and replace them when they reach the manufacturer's recommended limits.
6. Environmental considerations: Consider the operating environment of the bush chain and take appropriate measures to protect it. In corrosive or harsh environments, use corrosion-resistant chain materials or coatings to prevent accelerated wear.
7. Training and documentation: Ensure that maintenance personnel are properly trained in bush chain maintenance procedures. Keep detailed records of maintenance activities, including lubrication schedules, tension adjustments, and component replacements.
By following these maintenance requirements, you can extend the lifespan of your bush chain and maintain its optimal performance. Regular maintenance and timely replacement of worn components will help prevent unexpected failures and costly downtime.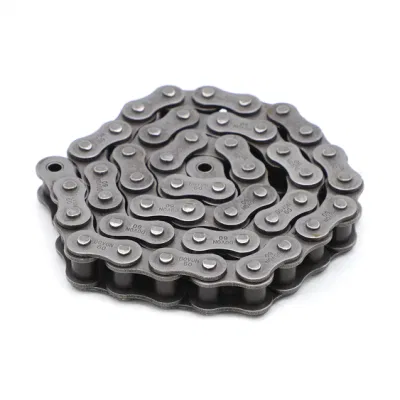 What are the noise levels associated with a bush chain?
The noise levels associated with a bush chain can vary depending on several factors. Here are some considerations:
1. Lubrication: Proper lubrication plays a significant role in reducing noise levels. Insufficient lubrication or using the wrong type of lubricant can increase friction and generate more noise. Regular lubrication maintenance is necessary to ensure smooth operation and minimize noise.
2. Chain Tension: Maintaining proper chain tension is essential for reducing noise. Excessive slack or excessive tension can lead to increased vibration and noise. It is important to follow the manufacturer's recommendations for the correct tensioning of the bush chain.
3. Chain Quality: The quality and design of the bush chain can also affect noise levels. High-quality bush chains are engineered to minimize vibration and noise generation during operation.
4. External Factors: Other external factors such as the design of the sprockets, the surrounding environment, and the presence of any additional components or accessories can influence noise levels. Proper alignment of the chain and sprockets, as well as the use of noise-dampening materials or guards, can help reduce noise.
It is important to note that while bush chains may generate some noise during operation, advancements in chain design and materials have significantly reduced noise levels in modern chains. Additionally, regular maintenance and proper installation can further minimize noise levels associated with a bush chain.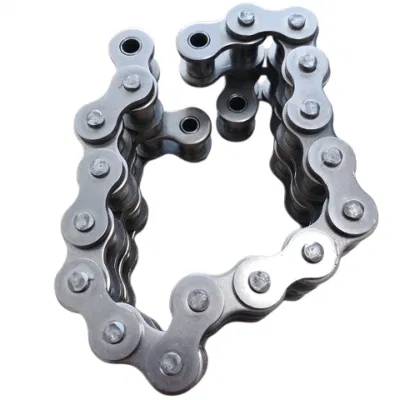 Can a bush chain be used in high-load applications?
Yes, bush chains are commonly used in high-load applications due to their robust design and ability to handle heavy loads. The construction of a bush chain allows it to transmit significant amounts of force and torque, making it suitable for demanding industrial applications.
Bush chains are designed with solid bushings and precision rollers that provide excellent load-carrying capacity. The bushings act as a bearing surface between the pins and the rollers, reducing friction and allowing for smooth rotation under high loads.
Furthermore, bush chains are available in various sizes and configurations to accommodate different load requirements. They are made from durable materials such as alloy steel or stainless steel, which further enhances their strength and load-bearing capabilities.
When selecting a bush chain for a high-load application, it is important to consider factors such as the anticipated load magnitude, operating conditions, and the desired safety margin. Proper lubrication and regular maintenance are also essential to ensure optimal performance and extend the service life of the bush chain in high-load applications.
Overall, bush chains are a reliable choice for transmitting high loads and are widely used in industries such as mining, construction, heavy machinery, and material handling.



editor by CX 2023-10-07