Product Description
Chain No.

Pitch

P
mm

Roller diameter

d1max
mm

Width between inner plates
b1min
mm
Pin diameter

d2max
mm

Pin length
Inner plate depth
h2max
mm
Plate thickness

t/Tmax
mm

Transverse pitch

Pt
mm

Breaking load

Q
kN/lbf

Weight per meter
q kg/m
Lmax
mm
Lcmax
mm
#06BSS-2
9.525
6.35
5.72
3.28
23.40
24.40
8.20
1.30
10.24
11.8/2653
0.87
*Bush chain:d1 in the table indicates the external diameter of the bush
*Straight side plates
Stainless steel chains are suitable for corrosive conditions involving food,chemicals pharmaceuticals,etc.and also suitable for high and low temperature conditions.
Chain Pictures
Roller chain
Roller chain or bush roller chain is the type of chain drive most commonly used for transmission of mechanical power on many kinds of domestic, industrial and agricultural machinery, including conveyors, wire- and tube-drawing machines, printing presses, cars, motorcycles, and bicycles. It consists of a series of short cylindrical rollers held together by side links. It is driven by a toothed wheel called a sprocket. It is a simple, reliable, and efficient[1] means of power transmission.
Though CZPT Renold is credited with inventing the roller chain in 1880, sketches by Leonardo da Vinci in the 16th century show a chain with a roller bearing.
Construction of the chain
Two different sizes of roller chain, showing construction.
There are 2 types of links alternating in the bush roller chain. The first type is inner links, having 2 inner plates held together by 2 sleeves or bushings CZPT which rotate 2 rollers. Inner links alternate with the second type, the outer links, consisting of 2 outer plates held together by pins passing through the bushings of the inner links. The "bushingless" roller chain is similar in operation though not in construction; instead of separate bushings or sleeves holding the inner plates together, the plate has a tube stamped into it protruding from the hole which serves the same purpose. This has the advantage of removing 1 step in assembly of the chain.
The roller chain design reduces friction compared to simpler designs, resulting in higher efficiency and less wear. The original power transmission chain varieties lacked rollers and bushings, with both the inner and outer plates held by pins which directly contacted the sprocket teeth; however this configuration exhibited extremely rapid wear of both the sprocket teeth, and the plates where they pivoted on the pins. This problem was partially solved by the development of bushed chains, with the pins holding the outer plates passing through bushings or sleeves connecting the inner plates. This distributed the wear over a greater area; however the teeth of the sprockets still wore more rapidly than is desirable, from the sliding friction against the bushings. The addition of rollers surrounding the bushing sleeves of the chain and provided rolling contact with the teeth of the sprockets resulting in excellent resistance to wear of both sprockets and chain as well. There is even very low friction, as long as the chain is sufficiently lubricated. Continuous, clean, lubrication of roller chains is of primary importance for efficient operation as well as correct tensioning.
Lubrication
Many driving chains (for example, in factory equipment, or driving a camshaft inside an internal combustion engine) operate in clean environments, and thus the wearing surfaces (that is, the pins and bushings) are safe from precipitation and airborne grit, many even in a sealed environment such as an oil bath. Some roller chains are designed to have o-rings built into the space between the outside link plate and the inside roller link plates. Chain manufacturers began to include this feature in 1971 after the application was invented by Joseph Montano while working for Whitney Chain of Hartford, Connecticut. O-rings were included as a way to improve lubrication to the links of power transmission chains, a service that is vitally important to extending their working life. These rubber fixtures form a barrier that holds factory applied lubricating grease inside the pin and bushing wear areas. Further, the rubber o-rings prevent dirt and other contaminants from entering inside the chain linkages, where such particles would otherwise cause significant wear.[citation needed]
There are also many chains that have to operate in dirty conditions, and for size or operational reasons cannot be sealed. Examples include chains on farm equipment, bicycles, and chain saws. These chains will necessarily have relatively high rates of wear, particularly when the operators are prepared to accept more friction, less efficiency, more noise and more frequent replacement as they neglect lubrication and adjustment.
Many oil-based lubricants attract dirt and other particles, eventually forming an CZPT paste that will compound wear on chains. This problem can be circumvented by use of a "dry" PTFE spray, which forms a solid film after application and repels both particles and moisture.
Use
An example of 2 'ghost' sprockets tensioning a triplex roller chain system
Roller chains are used in low- to mid-speed drives at around 6-0-0. p. 211. Retrieved 17 May 2-0-0. p. 86. Retrieved 30 January 2015.
 Green 1996, pp. 2337-2361
 "ANSI G7 Standard Roller Chain – Tsubaki Europe". Tsubaki Europe. Tsubakimoto Europe B.V. Retrieved 18 June 2.
External links
    Wikimedia Commons has media related to Roller chains.
The Complete Xihu (West Lake) Dis. to Chain
Categories: Chain drivesMechanical power transmissionMechanical power control
Products Package
Company Certificates

Why Choose Us
1.     Reliable Quality Assurance System
2.     Cutting-Edge Computer-Controlled CNC Machines
3.     Bespoke Solutions from Highly Experienced Specialists 
4.     Customization and OEM Available for Specific Application
5.     Extensive Inventory of Spare Parts and Accessories
6.     Well-Developed CZPT Marketing Network 
7.     Efficient After-Sale Service System
| | |
| --- | --- |
| Standard or Nonstandard: | Standard, Standard |
| Application: | Textile Machinery, Garment Machinery, Electric Cars, Motorcycle, Food Machinery, Agricultural Machinery, Textile Machinery, Garment Machinery, Conveyer Equipment, Packaging Machinery, Electric Cars, Motorcycle, Food Machinery, Marine, Mining Equipment, Agricultural Machinery, Car, Food and Beverage Industry, Motorcycle Parts |
| Surface Treatment: | Polishing, Polishing |
| Structure: | Roller Chain, Rotransmission Chain, Pulling Chain, Driving Chain |
| Material: | Stainless Steel, Rubber |
| Type: | Bush Chain, Transmission Chain, Pulling Chain, Driving Chain |
Samples:

US$ 0/Meter

1 Meter(Min.Order)

|
Request Sample
Customization:

Available

|

Customized Request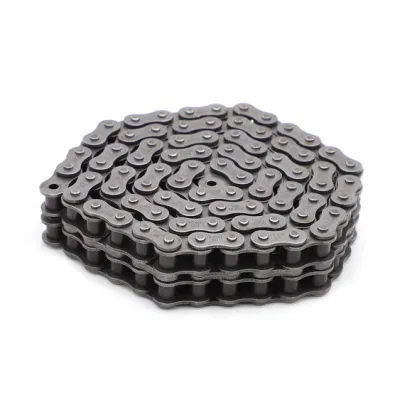 What are the benefits of using a plastic bush chain?
Plastic bush chains offer several advantages in various industrial applications. Here are some benefits of using a plastic bush chain:
1. Corrosion Resistance: Plastic bush chains are highly resistant to corrosion, making them ideal for use in humid or corrosive environments. Unlike metal chains, plastic chains do not rust or deteriorate when exposed to moisture, chemicals, or certain harsh conditions.
2. Lightweight: Plastic bush chains are significantly lighter than their metal counterparts. This lightweight nature reduces the overall weight of the system, making it easier to handle and operate. It also minimizes the load on supporting structures and reduces energy consumption.
3. Low Noise and Vibration: Plastic bush chains produce minimal noise and vibration during operation. Their smooth and quiet operation is beneficial in applications where noise reduction is required, such as in conveyor systems or assembly lines located in noise-sensitive environments.
4. Self-Lubrication: Some plastic bush chains are designed with built-in self-lubricating properties. These chains incorporate lubricating additives or solid lubricants within the plastic material, reducing the need for external lubrication. Self-lubricating plastic bush chains result in reduced maintenance requirements and prolonged chain life.
5. Chemical Resistance: Plastic bush chains exhibit excellent resistance to various chemicals, including oils, solvents, acids, and alkalis. This chemical resistance allows them to maintain their performance and structural integrity even in environments where exposure to chemicals is common.
6. Design Flexibility: Plastic bush chains offer design flexibility, allowing for customization to meet specific application requirements. They can be manufactured in various shapes, sizes, and configurations to accommodate different load capacities, speeds, and operating conditions.
7. Reduced Wear on Equipment: Plastic bush chains have lower friction coefficients compared to metal chains. This reduced friction minimizes wear on the sprockets and other mating components, extending the service life of the entire system and reducing maintenance costs.
8. Electrical Insulation: Plastic bush chains have excellent electrical insulation properties, making them suitable for applications where electrical conductivity needs to be avoided. They can be used in electrical or electronic assembly lines or environments where static electricity control is necessary.
These benefits make plastic bush chains a viable alternative to traditional metal chains in various industries, including food processing, packaging, pharmaceuticals, electronics, and many others.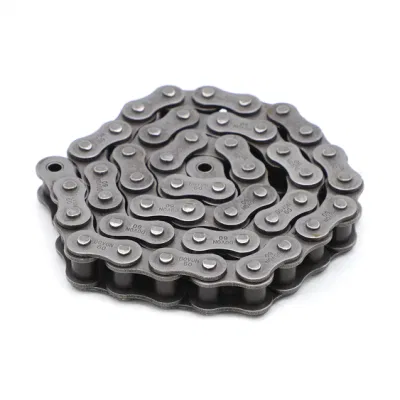 What are the noise levels associated with a bush chain?
The noise levels associated with a bush chain can vary depending on several factors. Here are some considerations:
1. Lubrication: Proper lubrication plays a significant role in reducing noise levels. Insufficient lubrication or using the wrong type of lubricant can increase friction and generate more noise. Regular lubrication maintenance is necessary to ensure smooth operation and minimize noise.
2. Chain Tension: Maintaining proper chain tension is essential for reducing noise. Excessive slack or excessive tension can lead to increased vibration and noise. It is important to follow the manufacturer's recommendations for the correct tensioning of the bush chain.
3. Chain Quality: The quality and design of the bush chain can also affect noise levels. High-quality bush chains are engineered to minimize vibration and noise generation during operation.
4. External Factors: Other external factors such as the design of the sprockets, the surrounding environment, and the presence of any additional components or accessories can influence noise levels. Proper alignment of the chain and sprockets, as well as the use of noise-dampening materials or guards, can help reduce noise.
It is important to note that while bush chains may generate some noise during operation, advancements in chain design and materials have significantly reduced noise levels in modern chains. Additionally, regular maintenance and proper installation can further minimize noise levels associated with a bush chain.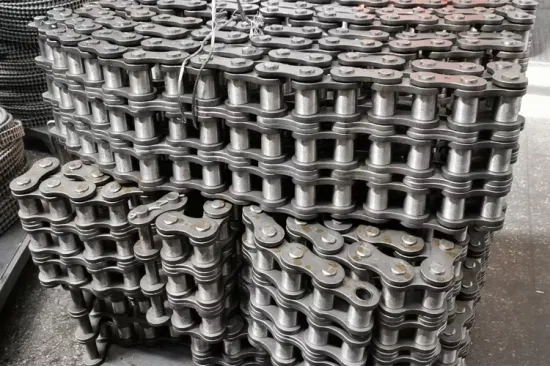 What is a bush chain and how does it work?
A bush chain, also known as a bush roller chain or a bushing chain, is a type of roller chain commonly used in mechanical power transmission systems. It consists of a series of interconnected links, known as bushings, that are joined together by pins. The bushings are cylindrical metal sleeves with internal bearings that rotate on the pins.
The working principle of a bush chain is based on the interaction between the rotating bushings and the teeth of the sprockets. The chain is wrapped around two or more sprockets, with one sprocket being the driver and the other(s) being the driven. As the driver sprocket rotates, it pulls the chain, causing the bushings to rotate on the pins.
Each bushing has an outer surface that comes into contact with the sprocket teeth. The engagement between the sprocket teeth and the bushings' outer surface creates the driving force, allowing power to be transmitted from the driver sprocket to the driven sprocket(s). This rotational motion transfers torque and enables the movement of various mechanical components or systems connected to the driven sprocket(s).
The bush chain design provides several advantages, including high tensile strength, flexibility, and the ability to transmit power over long distances. The bushings and pins are typically made of hardened steel to ensure durability and resistance to wear. Lubrication is essential to reduce friction and prevent premature wear of the bushings and pins.
Bush chains are widely used in various applications, such as industrial machinery, agricultural equipment, automotive systems, and conveyor systems. They are favored for their reliability, efficiency, and ease of installation. Proper maintenance, including regular lubrication and tension adjustment, is necessary to ensure the smooth operation and longevity of a bush chain.



editor by CX 2023-08-31