Product Description
Product Description
Conveyor Chains
Bush roller chain (used in U type scraper conveyor)
Bush roller chain (used in horizontal scraper conveyor)
Chains adopt high quality medium-carbon alloy steel,chain plate material is 40Mn, pin and roller material is 40Cr.
High quality material and good heat treatment guarantee excellent anti-shearing force and tensile strength during working and have good looking.
Model: GLF For TGSS flat scraper conveyor, install flat scrapper
NOTE: Other specifications which are not listed above can be made to customs'specifications.
Ring Chain
Drag Conveyor Type
Ring Chain Type
Pitch
P(mm)
Diameter
d(mm)
Length
L1(mm)
Width
W(mm)
Flight Type
Wing Width
L(mm)
Flight Width 
H(mm)
GSS16
D10-55-13
55
10
74
32.5
HF16
148
43.5
GSS20
D10-55-13
55
10
74
32.5
HF20
188
43.5
GSS25
D10-55-13
55
10
74
32.5
HF25
225
43.5
GSS32
D14-70-18
70
14
95
45
HF32
300
54.5
GSS40
D14-70-18
70
14
95
45
HF40
382
54.5
Note: The installation spacing of the nylon scraper is 4 links. We suggest every 4-6pcs of nylon scraper add 1 PU scraper to better remove the material residue in the scraper slot.
 
Packaging & Shipping
Certifications
Company Profile
Main Product Catalogue
FAQ
Q: Are your manufacturer or trading company?
A: ZheJiang CZPT is a leading and professional manufacturer of grain conveying equipment accessories over 10 years in China.
Q: What is your payment term?
A: Our usual payment is 30%TT in advance, 70%TT before shipment (the bill of landing). For small quantity, we also accept other ways after discussion.
Q: Could i buy sample first or small order and is the sample fee refundable?
A: Of course. We accept sample and small order especially for new customs and of course the sample fee will be refundable when order confirmed.
Q: When can delivery from ordering?
A: The delivery time depend on the quantity you ordered, generally about 15-45 days after deposit of payment.
Q: What is the quality of your products?
A: Quality is our corporate culture, we regard product quality as life of our company. We have achieved a lot of certifications to meet customs requirements. As a factory, we can control all process of production 100% and every single product will be tested qualified before shipping.
Q: How long is the warranty of your product?
A: Our warranty period is usually 1 year. But the warranty period can be extended after discussion and agreement.
| | |
| --- | --- |
| Material: | Stainless Steel |
| Structure: | Roller Chain |
| Surface Treatment: | Polishing |
| Chain Size: | 1/2"*11/128" |
| Feature: | Fire Resistant, Heat Resistant |
| Product Name: | Conveyor Chain |
Samples:

US$ 1/Meter

1 Meter(Min.Order)

|
Request Sample
Customization:

Available

|

Customized Request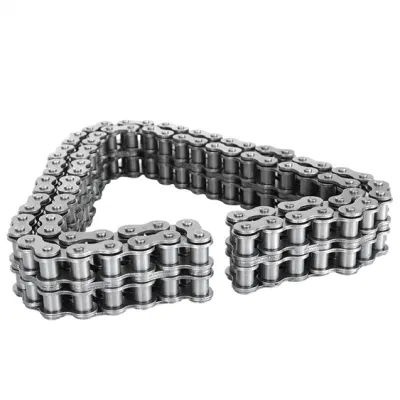 What are the benefits of using a corrosion-resistant bush chain?
A corrosion-resistant bush chain offers several advantages in various applications where exposure to moisture, chemicals, or other corrosive elements is a concern. Here are the key benefits:
1. Extended service life: Corrosion-resistant bush chains are specifically designed to withstand corrosive environments, resulting in a longer service life compared to standard chains. They are resistant to rust, oxidation, and other forms of corrosion, minimizing the risk of premature failure.
2. Reliable performance: By utilizing corrosion-resistant materials, the bush chain maintains its structural integrity and mechanical properties even in corrosive conditions. This ensures reliable and consistent performance over an extended period.
3. Reduced maintenance and downtime: Corrosion-resistant bush chains require less maintenance compared to standard chains. They are less susceptible to damage and wear caused by corrosion, reducing the frequency of lubrication, inspection, and replacement. This results in lower maintenance costs and less downtime for the equipment.
4. Improved safety: Corrosion can weaken a chain, compromising its strength and integrity. By using a corrosion-resistant bush chain, the risk of chain failure and potential accidents is significantly reduced, enhancing workplace safety.
5. Versatility in harsh environments: Corrosion-resistant bush chains can be used in a wide range of applications and industries where exposure to moisture, chemicals, saltwater, or other corrosive agents is prevalent. They are commonly employed in marine environments, chemical processing plants, wastewater treatment facilities, food processing plants, and outdoor equipment.
6. Cost-effective solution: While corrosion-resistant bush chains may have a higher initial cost compared to standard chains, their extended lifespan and reduced maintenance requirements result in long-term cost savings. The lower frequency of chain replacement, repairs, and associated downtime contributes to overall cost-effectiveness.
It is important to select the appropriate corrosion-resistant bush chain based on the specific corrosive agents and environmental conditions it will be exposed to. Consulting with chain manufacturers or industry experts can help in choosing the right chain material and coating for optimal corrosion resistance.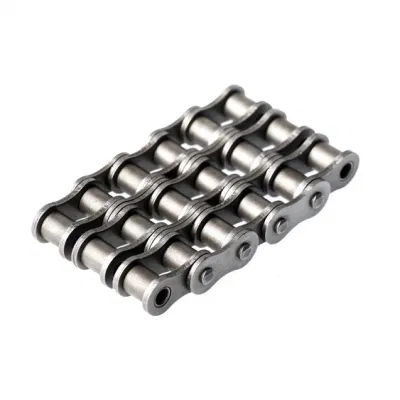 How do you troubleshoot common issues with bush chains?
Troubleshooting common issues with bush chains involves identifying the problem and taking appropriate corrective actions. Here are some common issues and their troubleshooting steps:
1. Chain Misalignment: If the bush chain is misaligned, it can cause excessive wear, noise, and premature failure. To troubleshoot this issue, check the alignment of the sprockets and adjust them as necessary. Ensure that the chain runs smoothly and evenly on the sprockets without any binding or skipping.
2. Chain Binding: If the chain becomes stuck or binds during operation, it may be due to improper lubrication, debris accumulation, or worn-out components. Start by cleaning the chain and sprockets to remove any debris or contaminants. Lubricate the chain with the recommended lubricant to reduce friction. If the issue persists, inspect the chain for signs of wear and replace any worn-out components.
3. Excessive Chain Wear: Excessive chain wear can lead to elongation, reduced performance, and increased risk of failure. To troubleshoot this issue, measure the chain's length and compare it to the manufacturer's specifications. If the chain has elongated beyond the acceptable limits, it needs to be replaced. Additionally, inspect the chain for signs of pin and bushing wear, plate wear, or sprocket wear. Replace any worn components as necessary.
4. Insufficient Lubrication: Inadequate lubrication can result in increased friction, wear, and premature failure of the bush chain. If the chain appears dry or there are signs of insufficient lubrication, apply the appropriate lubricant to the chain according to the manufacturer's recommendations. Ensure that the lubricant reaches all the critical components of the chain, including the pins, bushings, and rollers.
5. Chain Breakage: Chain breakage can occur due to excessive loads, sudden impacts, or worn-out components. To troubleshoot this issue, inspect the chain for any signs of damaged or broken links. Identify the cause of the breakage, such as overload or impact, and address it accordingly. Replace the broken chain links with a new chain segment and ensure proper installation.
6. Excessive Noise and Vibration: Unusual noise and vibration during chain operation can indicate underlying issues. Inspect the chain for signs of misalignment, worn-out components, or inadequate tension. Address the specific cause by adjusting the alignment, replacing worn parts, or adjusting the tension to reduce noise and vibration.
It's important to consult the manufacturer's guidelines and recommendations for troubleshooting specific issues with bush chains. Regular inspection, proper lubrication, and timely maintenance can help prevent common issues and ensure the reliable and efficient operation of the bush chain.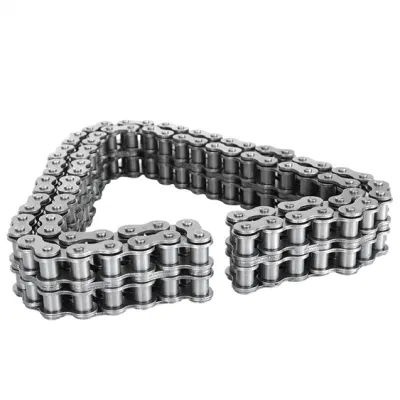 Can a bush chain be used in high-speed applications?
Yes, bush chains can be used in high-speed applications, but there are certain considerations to keep in mind. While bush chains are known for their durability and strength, they may have limitations in terms of their maximum allowable speed due to factors such as centrifugal forces and dynamic loads.
The speed capability of a bush chain depends on several factors, including the chain design, material, lubrication, and operating conditions. It is important to select a bush chain that is specifically designed for high-speed applications and to follow the manufacturer's recommendations regarding speed limits.
In high-speed applications, it is crucial to ensure proper chain tensioning and alignment to minimize vibration and reduce the risk of chain failure. Regular maintenance, including lubrication and inspection, is also essential to prevent premature wear and extend the service life of the chain.
Additionally, the selection of a suitable lubricant is important for high-speed bush chain applications. The lubricant should have excellent film strength and provide sufficient protection against wear and friction at high speeds. It is recommended to consult with the chain manufacturer or a lubrication specialist to determine the most suitable lubrication solution.
Overall, while bush chains can be used in high-speed applications, it is essential to consider the specific requirements and limitations of the application and to ensure proper maintenance and lubrication to achieve reliable and efficient operation.



editor by CX 2023-07-26