Product Description
12BH/12BHF1/12BHF2/12BHF3/12BV Simplex Roller Chains Bush Chains 
We have many OEM chain factory customer from Europe and our stainless steel chains quality is similar to the A quality in the world
We are professional supplier of chains
1.Bicycle chains: 408,410,415
2.Motorcycle chains: 04C, 25H, 06C, T3, 270H,415H, 420, 420L, 425, 428, 428H, 520,
525, 530 
3.ASA roller chains: 35, 40, 41, 50, 60, 60H, 80, 80H, 100, 120, 140, 160, 200, 240
(Catalog) 
4.Chain (British standard): 05-B, 06-B, 08-B, 10-B, 12-B, 16-B, 20-B, 24-B, 28-B,
32-B, 40-B (Catalog) 
5.Large pitch chain: 100, 100H, 120, 120H, 140, 140H, 160, 160H, 180, 200, 240
6.Extend-pitch precision roller chain: 208A, 208B, 210A, 210B, 212A, 212B, 216A,
216B, 220A,220B,224A,224B,228B,232B 
7.Roller chains for beer buntline conveyor: CK-70S,CK-100S,CK-100SA,CK-100SC,CK-133XA,
CK-140X, CK-140XA,CK-150X,CK-150S,CK-154X,CK-155X,CK-155XA,CK-160X,CK-160XA,CK-160XB,CK-160XC,CK-165X,CK-165XA, CK-169, CK-180X,CK-180XA,CK-200S,CW-102,CW-127
8.Implement roller chain for conveyors: 81X, 81XH,81XHH,CA550,CA555,CA620
9.Multi strand sizes available; up to 5 strand, for select size standard attachment available 
10.Chains from 04b~16b are with spring clip, other are riveted; cottered design
is available for size 80 to 240
11.Stainless steel chain and nickel plated chains is available; special design also available
(i.e., oven conveyor) and we can produce as per material your requests, usually stainless steel chains material is SS304, if you need SS316 or SS316L etc. it is available too
Main Products
Company Information
HangZhou CZPT Industry Co., Ltd. is a specialized supplier of a full range of chains, sprockets, gears, gear racks, v belt pulley, timing pulley, V-belts, couplings, machined parts and so on.
Due to our CZPT in offering best service to our clients, understanding of your needs and overriding sense of responsibility toward filling ordering requirements, we have obtained the trust of buyers worldwide. Having accumulated precious experience in cooperating with foreign customers, our products are selling well in the American, European, South American and Asian markets.Our products are manufactured by modern computerized machinery and equipment. Meanwhile, our products are manufactured according to high quality standards, and complying with the international advanced standard criteria.
With many years' experience in this line, we will be trusted by our advantages in competitive price, one-time delivery, prompt response, on-hand engineering support and good after-sales services.
Additionally, all our production procedures are in compliance with ISO9001 standards. We also can design and make non-standard products to meet customers' special requirements. Quality and credit are the bases that make a corporation alive. We will provide best services and high quality products with all sincerity. If you need any information or samples, please contact us and you will have our soon reply.
Packaging & Shipping
Exhibition

Contact Us
| | |
| --- | --- |
| Application: | Conveyer Equipment, Motorcycle, Agricultural Machinery |
| Structure: | Roller Chain |
| Material: | Alloy |
| Type: | Cranked Link Chain |
| Tensile Strength: | 4.3kn~585kn |
| Color: | Natural Gray |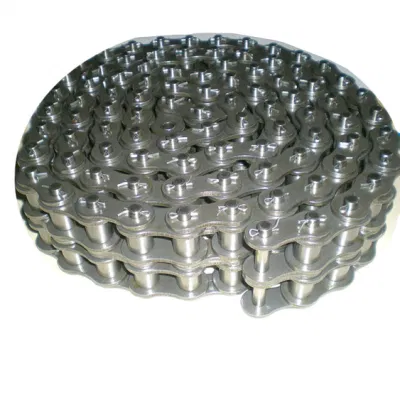 How does a bush chain handle shock loads and impacts?
Bush chains are designed to handle shock loads and impacts encountered in various industrial applications. They possess certain features that enable them to withstand these dynamic forces. Here's a detailed explanation:
1. Robust construction: Bush chains are typically constructed using high-strength materials such as alloy steel, which provide excellent durability and resistance to shock loads and impacts. The chain components, including the pins, bushings, and rollers, are designed to withstand the forces exerted during sudden acceleration, deceleration, or impacts.
2. Precision manufacturing: Bush chains undergo precise manufacturing processes to ensure accurate dimensions and tight tolerances. This precision allows the chain components to fit together properly, reducing the risk of misalignment and wear caused by shock loads and impacts.
3. Proper lubrication: Adequate lubrication is crucial for reducing friction and cushioning the impact forces within the bush chain. Proper lubrication helps to absorb the shock loads and impacts, preventing excessive wear and extending the chain's service life. Regular lubrication maintenance is essential to ensure optimal performance under such conditions.
4. Impact-resistant design: Some bush chains feature design elements that enhance their ability to handle shock loads and impacts. These may include hardened pins and bushings, impact-resistant rollers, and specialized coatings or surface treatments that increase their resistance to wear and deformation.
5. Proper installation and tensioning: Correct installation and tensioning of the bush chain are critical for its ability to handle shock loads and impacts. Ensuring proper alignment and tension helps distribute the forces evenly across the chain, minimizing stress concentrations and the potential for component failure.
While bush chains are designed to handle shock loads and impacts, it's important to consider the specific application requirements and consult with chain manufacturers or experts for guidance on selecting the appropriate chain type and ensuring proper maintenance practices. Taking these precautions will help maximize the chain's performance and longevity under challenging operating conditions.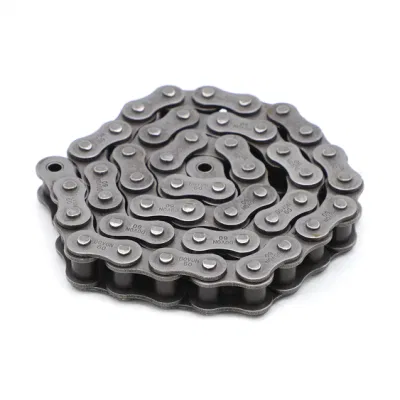 What are the noise levels associated with a bush chain?
The noise levels associated with a bush chain can vary depending on several factors. Here are some considerations:
1. Lubrication: Proper lubrication plays a significant role in reducing noise levels. Insufficient lubrication or using the wrong type of lubricant can increase friction and generate more noise. Regular lubrication maintenance is necessary to ensure smooth operation and minimize noise.
2. Chain Tension: Maintaining proper chain tension is essential for reducing noise. Excessive slack or excessive tension can lead to increased vibration and noise. It is important to follow the manufacturer's recommendations for the correct tensioning of the bush chain.
3. Chain Quality: The quality and design of the bush chain can also affect noise levels. High-quality bush chains are engineered to minimize vibration and noise generation during operation.
4. External Factors: Other external factors such as the design of the sprockets, the surrounding environment, and the presence of any additional components or accessories can influence noise levels. Proper alignment of the chain and sprockets, as well as the use of noise-dampening materials or guards, can help reduce noise.
It is important to note that while bush chains may generate some noise during operation, advancements in chain design and materials have significantly reduced noise levels in modern chains. Additionally, regular maintenance and proper installation can further minimize noise levels associated with a bush chain.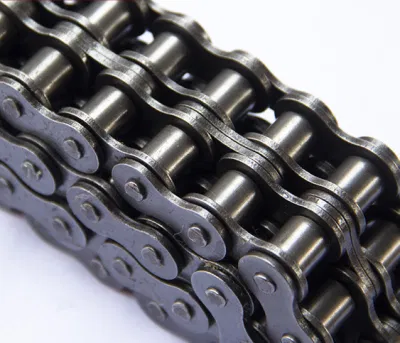 How do you select the right bush chain for your application?
Choosing the right bush chain for your application is essential to ensure optimal performance and longevity. Here are some factors to consider when selecting a bush chain:
1. Load Capacity: Evaluate the maximum load that the chain will need to transmit. Consider factors such as weight, acceleration, and shock loads. Choose a bush chain with a load capacity that exceeds the anticipated load to ensure reliable operation.
2. Speed: Determine the operating speed of the chain. Higher speeds may require chains with specialized designs to minimize wear, reduce friction, and maintain accurate timing.
3. Environmental Conditions: Assess the environmental conditions in which the chain will operate. Consider factors such as temperature, humidity, dust, chemicals, and exposure to corrosive substances. Select a bush chain that is designed to withstand the specific conditions of your application.
4. Size and Configuration: Determine the required chain size based on the available space and the dimensions of the sprockets or pulleys. Consider the pitch, width, and overall dimensions of the chain. Additionally, assess whether a standard or custom configuration is needed to meet the application requirements.
5. Lubrication Requirements: Determine the lubrication method and frequency required for the chain. Some bush chains are self-lubricating, while others may require regular lubrication. Consider the availability of lubrication systems and the maintenance requirements of the chain.
6. Reliability and Durability: Assess the expected operational lifespan and the reliability requirements of your application. Look for bush chains from reputable manufacturers known for producing high-quality, durable products. Consider factors such as wear resistance, fatigue strength, and overall reliability.
7. Cost: Evaluate the cost-effectiveness of the bush chain, considering both the initial investment and long-term maintenance costs. Balance the performance requirements with the available budget.
Consult with a knowledgeable supplier or engineer to ensure you select the right bush chain that meets your specific application requirements. They can provide guidance based on their expertise and help you choose a chain that offers optimal performance and durability.



editor by CX 2023-09-06