Product Description
Product Description
Conveyor Chains
Bush roller chain (used in U type scraper conveyor)
Bush roller chain (used in horizontal scraper conveyor)
Chains adopt high quality medium-carbon alloy steel,chain plate material is 40Mn, pin and roller material is 40Cr.
High quality material and good heat treatment guarantee excellent anti-shearing force and tensile strength during working and have good looking.
Model: GLF For TGSS flat scraper conveyor, install flat scrapper
NOTE: Other specifications which are not listed above can be made to customs'specifications.
Ring Chain
Drag Conveyor Type
Ring Chain Type
Pitch
P(mm)
Diameter
d(mm)
Length
L1(mm)
Width
W(mm)
Flight Type
Wing Width
L(mm)
Flight Width 
H(mm)
GSS16
D10-55-13
55
10
74
32.5
HF16
148
43.5
GSS20
D10-55-13
55
10
74
32.5
HF20
188
43.5
GSS25
D10-55-13
55
10
74
32.5
HF25
225
43.5
GSS32
D14-70-18
70
14
95
45
HF32
300
54.5
GSS40
D14-70-18
70
14
95
45
HF40
382
54.5
Note: The installation spacing of the nylon scraper is 4 links. We suggest every 4-6pcs of nylon scraper add 1 PU scraper to better remove the material residue in the scraper slot.
 
Packaging & Shipping
Certifications
Company Profile
Main Product Catalogue
FAQ
Q: Are your manufacturer or trading company?
A: ZheJiang CZPT is a leading and professional manufacturer of grain conveying equipment accessories over 10 years in China.
Q: What is your payment term?
A: Our usual payment is 30%TT in advance, 70%TT before shipment (the bill of landing). For small quantity, we also accept other ways after discussion.
Q: Could i buy sample first or small order and is the sample fee refundable?
A: Of course. We accept sample and small order especially for new customs and of course the sample fee will be refundable when order confirmed.
Q: When can delivery from ordering?
A: The delivery time depend on the quantity you ordered, generally about 15-45 days after deposit of payment.
Q: What is the quality of your products?
A: Quality is our corporate culture, we regard product quality as life of our company. We have achieved a lot of certifications to meet customs requirements. As a factory, we can control all process of production 100% and every single product will be tested qualified before shipping.
Q: How long is the warranty of your product?
A: Our warranty period is usually 1 year. But the warranty period can be extended after discussion and agreement.
| | |
| --- | --- |
| Material: | Stainless Steel |
| Structure: | Roller Chain |
| Surface Treatment: | Polishing |
| Chain Size: | 1/2"*11/128" |
| Feature: | Fire Resistant, Heat Resistant |
| Product Name: | Conveyor Chain |
Samples:

US$ 1/Meter

1 Meter(Min.Order)

|
Request Sample
Customization:

Available

|

Customized Request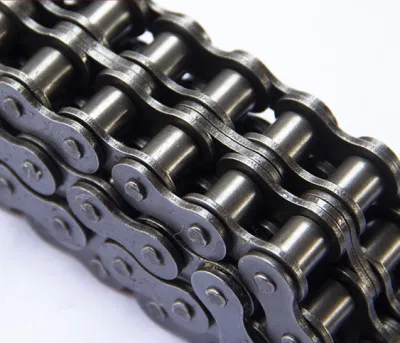 What are the future trends and advancements in bush chain technology?
The future of bush chain technology is driven by the continuous pursuit of improving performance, reliability, and efficiency. Here are some emerging trends and advancements in bush chain technology:
1. Advanced Materials: Manufacturers are exploring the use of advanced materials such as high-strength alloys, polymers, and composites to enhance the durability and load-carrying capacity of bush chains. These materials offer improved wear resistance, corrosion resistance, and reduced weight.
2. Enhanced Lubrication Systems: Lubrication plays a crucial role in the smooth operation of bush chains. Future advancements aim to develop more efficient lubrication systems that provide better coverage, reduce friction, and extend the chain's service life. Self-lubricating bush chains are also being developed, eliminating the need for external lubrication.
3. Precision Manufacturing: Advancements in manufacturing technologies, such as computer numerical control (CNC) machining and additive manufacturing, enable the production of bush chains with higher precision and tighter tolerances. This results in improved chain performance, reduced noise, and smoother operation.
4. IoT Integration: The integration of Internet of Things (IoT) technology allows for real-time monitoring of bush chain performance and condition. IoT-enabled sensors can detect wear, fatigue, and other potential issues, enabling predictive maintenance and optimizing chain performance.
5. Intelligent Control Systems: The development of intelligent control systems enables better monitoring and control of bush chain operation. These systems can optimize chain speed, tension, and alignment, leading to improved efficiency and reduced energy consumption.
6. Sustainability and Environmental Considerations: Future advancements in bush chain technology focus on reducing environmental impact. This includes the development of eco-friendly materials, energy-efficient designs, and recyclable chain components.
7. Customization and Modular Design: The trend towards customization and modular design allows for greater flexibility in adapting bush chains to specific application requirements. Modular bush chain systems simplify installation, maintenance, and replacement, reducing downtime and improving overall system efficiency.
These trends and advancements in bush chain technology aim to address industry needs for higher performance, increased reliability, and reduced maintenance, paving the way for more efficient and sustainable industrial applications.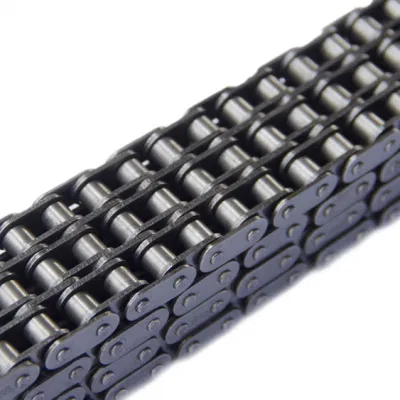 Can a bush chain be used in vertical lifting applications?
Yes, bush chains can be used in vertical lifting applications. The design and construction of bush chains make them suitable for transmitting power and lifting heavy loads in a vertical direction. Bush chains are commonly used in various vertical lifting systems such as elevators, cranes, hoists, and material handling equipment.
When utilizing a bush chain for vertical lifting, several factors should be considered:
1. Load capacity: Determine the maximum load that the bush chain needs to support during the lifting operation. Select a bush chain with an appropriate load capacity to ensure it can handle the weight of the load.
2. Safety factors: Consider the safety requirements and regulations for vertical lifting applications. Ensure that the selected bush chain meets the necessary safety standards and has a sufficient factor of safety to handle the intended load.
3. Speed and acceleration: Evaluate the desired lifting speed and acceleration. Take into account the weight of the load, the distance to be lifted, and the required lifting time. Ensure that the bush chain is capable of safely lifting the load at the desired speed and acceleration.
4. Tensioning and alignment: Proper tensioning and alignment are crucial for the smooth and reliable operation of a bush chain in vertical lifting applications. Ensure that the bush chain is properly tensioned and aligned to prevent issues such as chain slack, skipping, or jamming.
5. Lubrication: Provide adequate lubrication to reduce friction and wear between the bush chain components. Lubrication helps to prolong the life of the chain and ensures smooth movement during the lifting operation. Select the appropriate lubrication method based on the application requirements and operating conditions.
It is important to consult the manufacturer's guidelines and specifications when selecting and installing a bush chain for vertical lifting applications. Proper maintenance and regular inspections should also be conducted to ensure the safe and reliable operation of the bush chain in the vertical lifting system.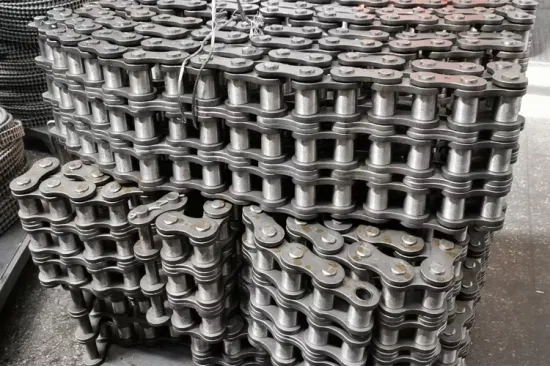 What is a bush chain and how does it work?
A bush chain, also known as a bush roller chain or a bushing chain, is a type of roller chain commonly used in mechanical power transmission systems. It consists of a series of interconnected links, known as bushings, that are joined together by pins. The bushings are cylindrical metal sleeves with internal bearings that rotate on the pins.
The working principle of a bush chain is based on the interaction between the rotating bushings and the teeth of the sprockets. The chain is wrapped around two or more sprockets, with one sprocket being the driver and the other(s) being the driven. As the driver sprocket rotates, it pulls the chain, causing the bushings to rotate on the pins.
Each bushing has an outer surface that comes into contact with the sprocket teeth. The engagement between the sprocket teeth and the bushings' outer surface creates the driving force, allowing power to be transmitted from the driver sprocket to the driven sprocket(s). This rotational motion transfers torque and enables the movement of various mechanical components or systems connected to the driven sprocket(s).
The bush chain design provides several advantages, including high tensile strength, flexibility, and the ability to transmit power over long distances. The bushings and pins are typically made of hardened steel to ensure durability and resistance to wear. Lubrication is essential to reduce friction and prevent premature wear of the bushings and pins.
Bush chains are widely used in various applications, such as industrial machinery, agricultural equipment, automotive systems, and conveyor systems. They are favored for their reliability, efficiency, and ease of installation. Proper maintenance, including regular lubrication and tension adjustment, is necessary to ensure the smooth operation and longevity of a bush chain.



editor by CX 2023-07-27