Product Description
41HF1/40HF3/08BHF8/10BH/10BHF1 Simplex Roller Chains Bush Chains 
We have many OEM chain factory customer from Europe and our stainless steel chains quality is similar to the A quality in the world
We are professional supplier of chains
1.Bicycle chains: 408,410,415
2.Motorcycle chains: 04C, 25H, 06C, T3, 270H,415H, 420, 420L, 425, 428, 428H, 520,
525, 530 
3.ASA roller chains: 35, 40, 41, 50, 60, 60H, 80, 80H, 100, 120, 140, 160, 200, 240
(Catalog) 
4.Chain (British standard): 05-B, 06-B, 08-B, 10-B, 12-B, 16-B, 20-B, 24-B, 28-B,
32-B, 40-B (Catalog) 
5.Large pitch chain: 100, 100H, 120, 120H, 140, 140H, 160, 160H, 180, 200, 240
6.Extend-pitch precision roller chain: 208A, 208B, 210A, 210B, 212A, 212B, 216A,
216B, 220A,220B,224A,224B,228B,232B 
7.Roller chains for beer buntline conveyor: CK-70S,CK-100S,CK-100SA,CK-100SC,CK-133XA,
CK-140X, CK-140XA,CK-150X,CK-150S,CK-154X,CK-155X,CK-155XA,CK-160X,CK-160XA,CK-160XB,CK-160XC,CK-165X,CK-165XA, CK-169, CK-180X,CK-180XA,CK-200S,CW-102,CW-127
8.Implement roller chain for conveyors: 81X, 81XH,81XHH,CA550,CA555,CA620
9.Multi strand sizes available; up to 5 strand, for select size standard attachment available 
10.Chains from 04b~16b are with spring clip, other are riveted; cottered design
is available for size 80 to 240
11.Stainless steel chain and nickel plated chains is available; special design also available
(i.e., oven conveyor) and we can produce as per material your requests, usually stainless steel chains material is SS304, if you need SS316 or SS316L etc. it is available too
Main Products
Company Information
HangZhou CZPT Industry Co., Ltd. is a specialized supplier of a full range of chains, sprockets, gears, gear racks, v belt pulley, timing pulley, V-belts, couplings, machined parts and so on.
Due to our CZPT in offering best service to our clients, understanding of your needs and overriding sense of responsibility toward filling ordering requirements, we have obtained the trust of buyers worldwide. Having accumulated precious experience in cooperating with foreign customers, our products are selling well in the American, European, South American and Asian markets.Our products are manufactured by modern computerized machinery and equipment. Meanwhile, our products are manufactured according to high quality standards, and complying with the international advanced standard criteria.
With many years' experience in this line, we will be trusted by our advantages in competitive price, one-time delivery, prompt response, on-hand engineering support and good after-sales services.
Additionally, all our production procedures are in compliance with ISO9001 standards. We also can design and make non-standard products to meet customers' special requirements. Quality and credit are the bases that make a corporation alive. We will provide best services and high quality products with all sincerity. If you need any information or samples, please contact us and you will have our soon reply.
Packaging & Shipping
Exhibition

Contact Us
| | |
| --- | --- |
| Application: | Conveyer Equipment, Motorcycle, Agricultural Machinery |
| Structure: | Roller Chain |
| Material: | Alloy |
| Type: | Cranked Link Chain |
| Tensile Strength: | 4.3kn~585kn |
| Color: | Natural Gray |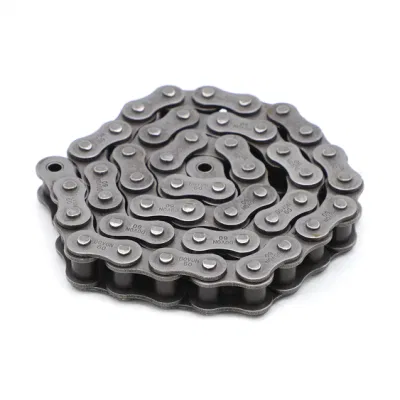 How does a bush chain compare to other types of power transmission systems?
Bush chains offer several advantages and differences compared to other types of power transmission systems. Here are some key points of comparison:
1. Simple design and construction: Bush chains have a relatively simple design, consisting of inner and outer plates connected by bushings and pins. This simplicity makes them easy to manufacture, assemble, and maintain compared to more complex power transmission systems.
2. High strength and durability: Bush chains are known for their high strength and durability. They are designed to withstand heavy loads and resist wear, making them suitable for demanding industrial applications.
3. Wide range of speed and load capacities: Bush chains are capable of handling a wide range of speeds and loads. They can effectively transmit power in both high-speed and high-torque applications, providing versatility in various industrial settings.
4. Compact size and space-saving: Bush chains have a compact design, allowing them to be used in tight spaces and constrained environments. They offer efficient power transmission without requiring excessive space or complicated installations.
5. Cost-effective solution: Bush chains are often a cost-effective option for power transmission systems. Their simple design and availability of standardized components make them affordable compared to more specialized systems.
6. Reliable and low-maintenance: Bush chains are known for their reliability and require minimal maintenance. Proper lubrication and periodic inspections are typically sufficient to keep them operating smoothly and extend their service life.
7. Limited shock absorption: While bush chains provide excellent power transmission capabilities, they have limited shock absorption compared to systems like belts or elastomeric couplings. This makes them more suitable for applications where consistent power transmission is required rather than situations with significant shock loads.
Overall, bush chains offer a balance of strength, reliability, and cost-effectiveness, making them a popular choice for power transmission in various industrial settings.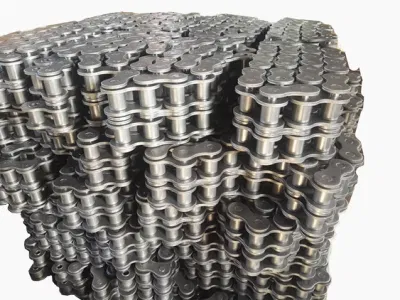 How do you properly maintain and lubricate a bush chain?
Maintaining and lubricating a bush chain is essential to ensure its optimal performance and longevity. Here are the steps to properly maintain and lubricate a bush chain:
1. Regular Inspection: Perform regular visual inspections of the bush chain to check for any signs of wear, damage, or misalignment. Inspect the sprockets and bushings for wear patterns or excessive play. Replace any worn or damaged components.
2. Cleaning: Before lubricating the chain, clean it thoroughly to remove dirt, debris, and old lubricant. Use a suitable cleaning agent and a brush or compressed air to clean the chain effectively.
3. Lubrication: Apply the appropriate lubricant to the bush chain. The lubricant should be specifically designed for chain applications and provide adequate protection against wear and friction. Consider factors such as the operating conditions, temperature, and speed when selecting the lubricant.
4. Proper Lubricant Application: Apply the lubricant evenly to the bush chain while rotating the chain manually or running it at a slow speed. Ensure that all the chain components, including the bushings, pins, and rollers, are properly lubricated. Avoid over-lubrication as it can attract more dirt and debris.
5. Tensioning and Alignment: Maintain proper chain tension and alignment to prevent excessive wear and premature failure. Check the chain tension regularly and adjust it as needed. Ensure that the sprockets are aligned properly to avoid side loads and uneven wear.
6. Regular Maintenance: Establish a regular maintenance schedule for the bush chain. This includes periodic inspections, lubrication, and adjustments. Follow the manufacturer's recommendations for maintenance intervals and procedures.
7. Environmental Considerations: Take into account the environmental conditions in which the bush chain operates. Extreme temperatures, humidity, or corrosive atmospheres may require special lubricants or additional protective measures.
By following these maintenance and lubrication practices, you can ensure the smooth operation, extended service life, and optimal performance of your bush chain.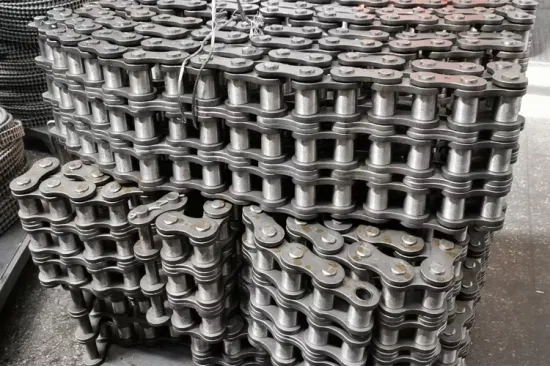 What is a bush chain and how does it work?
A bush chain, also known as a bush roller chain or a bushing chain, is a type of roller chain commonly used in mechanical power transmission systems. It consists of a series of interconnected links, known as bushings, that are joined together by pins. The bushings are cylindrical metal sleeves with internal bearings that rotate on the pins.
The working principle of a bush chain is based on the interaction between the rotating bushings and the teeth of the sprockets. The chain is wrapped around two or more sprockets, with one sprocket being the driver and the other(s) being the driven. As the driver sprocket rotates, it pulls the chain, causing the bushings to rotate on the pins.
Each bushing has an outer surface that comes into contact with the sprocket teeth. The engagement between the sprocket teeth and the bushings' outer surface creates the driving force, allowing power to be transmitted from the driver sprocket to the driven sprocket(s). This rotational motion transfers torque and enables the movement of various mechanical components or systems connected to the driven sprocket(s).
The bush chain design provides several advantages, including high tensile strength, flexibility, and the ability to transmit power over long distances. The bushings and pins are typically made of hardened steel to ensure durability and resistance to wear. Lubrication is essential to reduce friction and prevent premature wear of the bushings and pins.
Bush chains are widely used in various applications, such as industrial machinery, agricultural equipment, automotive systems, and conveyor systems. They are favored for their reliability, efficiency, and ease of installation. Proper maintenance, including regular lubrication and tension adjustment, is necessary to ensure the smooth operation and longevity of a bush chain.



editor by CX 2023-08-05